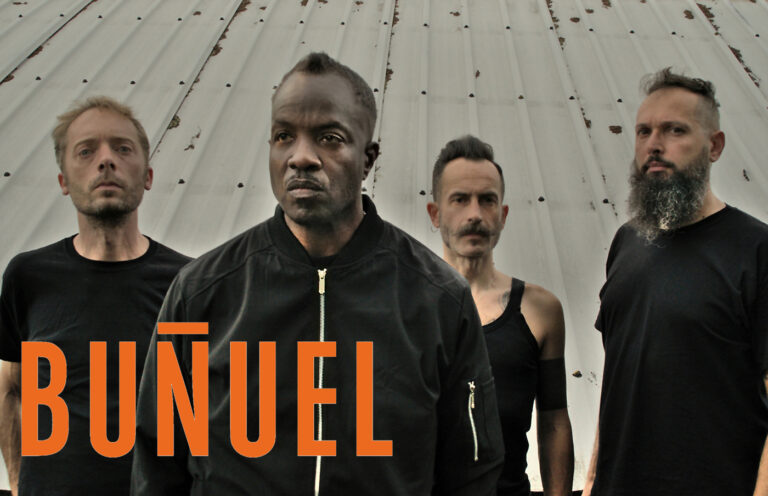 Unforgiving, merciless, beautiful, BUÑUEL is the sound of a difficult situation made worse by an unwillingness and an inability to play nice.
BUÑUEL's unpredictable amalgam of angular rhythms, drum salves, blitzkrieg guitars and vocals that sound more like threats than promises is post-punk, protoheavy and arty (as in avant-garde noise).
The band are named after the Spanish filmmaker Luis Buñuel, "the only filmmaker to first make his bones by making good on what happens when straight razors meet eyeballs".
BUÑUEL are a near-supergroup of global significance boasting the sound work of the Italian trio of guitarist Xabier Iriondo (Afterhours), the bass of Andrea Lombardini, and the drums of Francesco Valente (Il Teatro Degli Orrori), along with the vocals of Eugene S. Robinson (OXBOW)
With their first two records appearing on Italy's La Tempesta, they released their third with Profound Lore Records in February 2022 touring Europe two times (25 shows) receiving glazing reviews and enthusiastic audience response.
Buñuel is going to release a double LP, Mansuetude, worldwide in 2024 onOverd rive Records.
WIRE – review:
"They have a precise sense of how harsh buzzes, waves of Crazy Horse-level distortion and drum thunder can be sculpted into something truly beautiful – towering but never overpowering"
MUSIQUE MACHINE – album review by Josh Landry "a near-perfect album with
creativity and dramatic flair to match the group's influences", 5*
SUN 13 – review by Simon Kirk:  "Robinson is like a human wreckingball… one big feral spasm… a fearless head-charge into the dangerous terrains where BUÑUEL conquers all with pure harmonic rage."
AVE NOCTUM – 9/10 review by Nick Griffiths "persuasive, interesting, repellent and downright confusing… but isn't this what music should be all about? To confound, to sit you on your ass and ask you a question about YOUR relevance
and your place in the world."
MORE ON BUÑUEL
https://linktr.ee/bunueltheband
https://www.facebook.com/Bunuelband
https://www.instagram.com/bunueltheband/