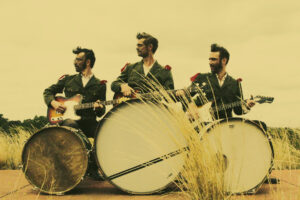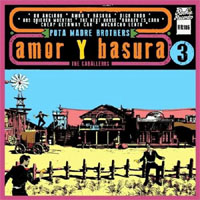 After successful album releases of ""Queso Y Cojones"(2011), "It's A Long Long Way To Meximotown"(2012), many many concerts, the band split up in 2014 just to come back in 2015 with their Mini-Album "Amor Y Basura" (Love and Garbage). They also like smoking on stage.
Please provide 3 cleaning towels…
(You want more infos ? Just DOWNALOAD the Pressinfo!)

THREE WHITE MEN – NO MISSION
"Three kick drums, three guitars, three mariachi uniforms…"

Hello from Meximotown !
"Thank God for the Puta Madre Brothers!
Hotter than a jalapeno in the desert sun!"
These music matadors will sting you with their sharp geetars, conquer you with their infected melodies, beat you nearer to a heartattack with the triple bass-drum-boom and leave you wet on the floor in a pile of destroyed tortilla chips with their three-times-one-man-band thunder!  Thirty fingers, six feet, three mouths, and a thousand tubs of hair grease make this band the most electyric experiment in modern entertainment today. They will burn your ears like barbecued chicken.
Since the release of their earth-shattering debut album "Queso Y Cojones" in 2010 PUTA MADRE BROTHERS have eaten through a few hundred tubs of hair pomade, been threatened by the RSPCA for misconduct with chicken feathers, accidentally set off fireworks inside a Tasmanian circus tent, and brought a 14 piece trumpet section on stage to a so ld out show at Melbourne's Corner Hotel. They received regular hate-mail from Anglo-Mexicanos, to ured across Europe and all over Australia. They experienced amplifiers self-combusting, letters from debt collectors, car burglaries in Paris, gifts from strangers and divorce papers from various wives. They've set stages on fire at The Big Day Out, Meredith, Falls, MonaFoma, and Waverock and played with their cigar toting hot sauce wielding hero, Kinky Friedman. Neneh Cherry became a fan after she shared a festival stage with the "Brothers" during an European tour.

Their no.1 smash hit "Grandes Pantelones" is in #7 of the US-series "Sons of Anarchy" and nobody knows what else is going right now with their crazy music…
It might be hopeless to follow them on FACEBOOK ?  Try it !

"What ? They have 3 (three!) Kick Drums on stage ?! ! Yes, 3 Kick Drums !"– German TV Journalist

# "Thank God for the Puta Madre Brothers! Hotter than a jalapeno in the desert sun!" – Noisecity.blogspot.com

#"Damn, wish i have hair only to comb them like yours…" – The Masked Marvels

#"A life-affirming frenzy of Mexican rock n roll noise." – Bob Baker Fish, Inpress

#"Half traditional mariachi band, half laughing lunatics,!" -FasterLouder.com.au

#"Amid all the mind shaking, genre bending stuff, Puta Madre Brothers possess hooks so sharp they probably contravene the average government's anti-weapon legislation."-Patrick Emery, Beat Magazine, AUS

#"weird, wrong, and loud!" -Anthony Morgan, Comedian

# "So groovy and sexy! A fucking earthquake from Down Under!!"- Mirko Cast, Italy Their albums includes songs from dirty high speed mariachi to tear jerking desert ballads, heavy fuzzing
hot funk and sweaty spanglish soul. Music that will split your pants and damage your hair-do. You will want to scream and dance and wash your ears in hot sauce. Songs about mothers in law, ugly dogs, heart-melting love songs. Spaghetti-western themes,
stampede Tex-Mex numbers and more and more hot dance numbers. At their concerts all women and all men are dancing and sweating along with the ghosts of 50's style heart-throb Ritchie Valens' tunes and some 80's girl disco dance soul…
Yes, we call it "Meximotown"!